Specifically designed for use with PermaBASE® Cement Boards
Large diameter, low profile wafer-type head for more secure attachment
Durable, corrosion-resistant coating.
Self-drilling and self-tapping versions available.
Packaged in convenient jars and pails for jobsite durability.
PermaBASE™ Cement Board Screws are corrosion-resistant screws specifically designed to be used with PermaBASE® Cement Boards and Foam Tile Backer. PermaBASE Cement Board Screws feature a larger diameter wafer-type head and a durable corrosion-resistant coating. PermaBASE offers versions for both wood and metal framing.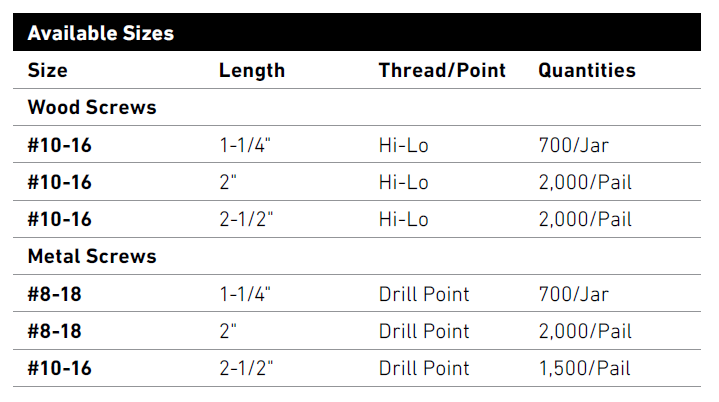 Specifications
Products that suit any project criteria
Product Details
Length:
1 1/4", 2", 2 1/2"
Thread/Point:
Hi-Lo and Drill Point
Quantities:
700/Jar, 1,500/Pail, 2,000/Pail
Frequently Asked Questions
Ready to answer your product and installation questions
Designs & Resources
Find product details and technical documentation in the Design & Resource Center.
Explore Now
Expert Connection
Discuss your project with PermaBASE experts who can help guide your product selection.
Get In Touch
Need Technical Information?
Call 1-800-NATIONAL®
National Gypsum Company is the exclusive service provider for products manufactured by PermaBASE Building Products, LLC.